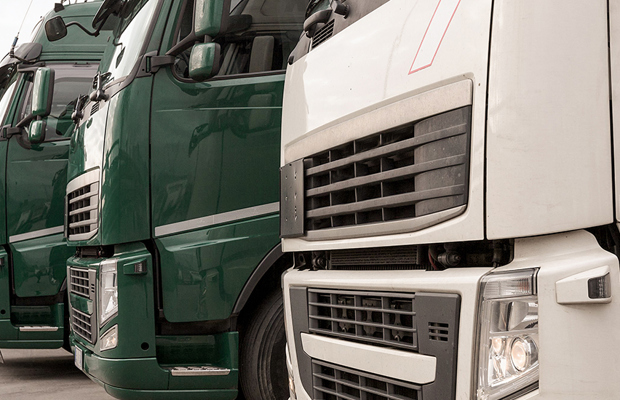 Physical Damage Insurance
In the event an accident occurs and your equipment is insured in this program, your equipment will receive quality treatment and will be returned to service as quickly as possible. After all, the only way you can make money is when your equipment is in service hauling cargo for Landstar customers.
This program offers several coverages that aren't usually available in the insurance marketplace, such as:
First-dollar windshield glass coverage

 

– with no deductible for road hazard damage.
Haul back to home location

 

– (up to $1,500; haul-back decision based on extent of damage).
Single deductible

 

– applied to both tractor and trailer in the event both are damaged in one incident.
Optional Coverages

 

– available at additional cost
Enhancement Package
Downtime

 

– Pays up to $150 per day for a maximum of 21 days when your covered vehicle becomes disabled as a result of an accident, subject to the waiting period. Coverage ceases when the covered auto is drivable, or the maximum payment period of 21 days ends, whichever comes first.
Travel Reimbursement

 

– If your covered vehicle is involved in an accident and becomes disabled at least 250 miles away from your place of residence, you are eligible to receive reimbursement up to $500 for transportation expenses to and from your home, subject to a 72-hour waiting period. In lieu of traveling to the insured's residence, we will pay for hotel expense in the city where the vehicle is being repaired up to a maximum of $500, subject to a 72-hour waiting period and this benefit ends when the repair has been completed.
Personal Effects

 

– Pays up to $500 for the theft (excluding mysterious disappearance) of personal effects which are not permanently attached to a covered tractor. This coverage has a separate $25 deductible.
GAP Coverage
GAP coverage is available to Independent Contractors that have their vehicles under a finance agreement. Your current coverage provides for a payment in the event your power unit is a total loss, based on its actual cash value. Some finance companies may require you to pay a higher amount to fulfill your financial obligation. The "GAP" endorsement is designed to provide you additional protection to cover this higher amount, however, you must purchase the higher limit of coverage.
To Enroll
Physical Damage applications are available online or from your Gallagher Insurance Coordinator.
Completed applications may be faxed to your Gallagher Insurance Coordinator. Coverage will become effective on the date your application is accepted by Gallagher, and your monthly cost will be deducted from your settlement in the next month.
About 15 days after acceptance of your application by Gallagher, you will receive your certificate which will become an addendum to your ICOA with Landstar. If you don't receive the certificate at that time, please call Gallagher's Transportation Department in Kansas City at 800.435.0372.
Trades of Equipment/Changes in Your Lease
When trading a piece of equipment or if you change the name on your lease, a new application for physical damage coverage must be submitted to Gallagher Transportation Services reflecting the appropriate information for the new unit. Notification to Landstar does not result in automatic coverage.
Information
**Insurance carrier **– The Independent Contractor physical damage insurance program offered by Gallagher is provided by Zurich American Insurance Company in the United States and AIG Commercial Insurance Company of Canada.
Simple change procedure – If you add or change equipment, simply complete a new application noting "Change" on this application and send it to Gallagher. Gallagher will make the necessary changes.
Terms and conditions – As evidence of insurance coverage, you will be issued a certificate, which will be subject to all policy terms, conditions and exclusions. A copy of the policy is available upon written request.
Billing – Settlement deductions for the cost of the physical damage coverage will begin the month after your coverage is effective.
Authorized Insurance Agent – Arthur J. Gallagher Risk Management Services, Inc. is a duly licensed agent (also referred to herein as administrator or coordinator) that will carry out the reasonable and customary duties of an insurance agent for the insurance coverage hereby offered.
Cost and Consent to Rate – You, the Independent Contractor, accept and acknowledge that your insurance cost, as explained more fully in the application, may include premium, taxes, fees, and/or interest, such as administrative fees and/or expenses of Gallagher and/or CMC/Gallagher Bassett Services, Inc. for which cost you are solely responsible. The underwriters retain the right to change the physical damage cost by giving thirty days notice to you of a cost change.
Termination – In the event the ICOA with Landstar is terminated, your coverage will be canceled and your settlement deduction will automatically cease. When this happens, you need to make arrangements to replace your physical damage insurance coverage immediately with another insurance carrier.
If you wish to withdraw from the insurance program voluntarily, you must give written notification to the insurance underwriter. Such written notification may be sent to the Gallagher Insurance Coordinator.
The insurance underwriters retain the right to cancel the insurance coverage in accordance with the policy's terms and conditions You will be given a minimum of 15 days' notice of cancellation.
Prompt claim service – The best time to gauge the value of your insurance carrier is when you have a claim. Your claim will be managed by CMC/Gallagher Bassett Services, Inc. When you have a claim, all you do is call the toll-free number, 800-821-5401.
A claims representative will provide prompt, complete service – with just that one phone call. Simply call 800-821-5401 and ask for the Physical Damage Truck Claims Department.